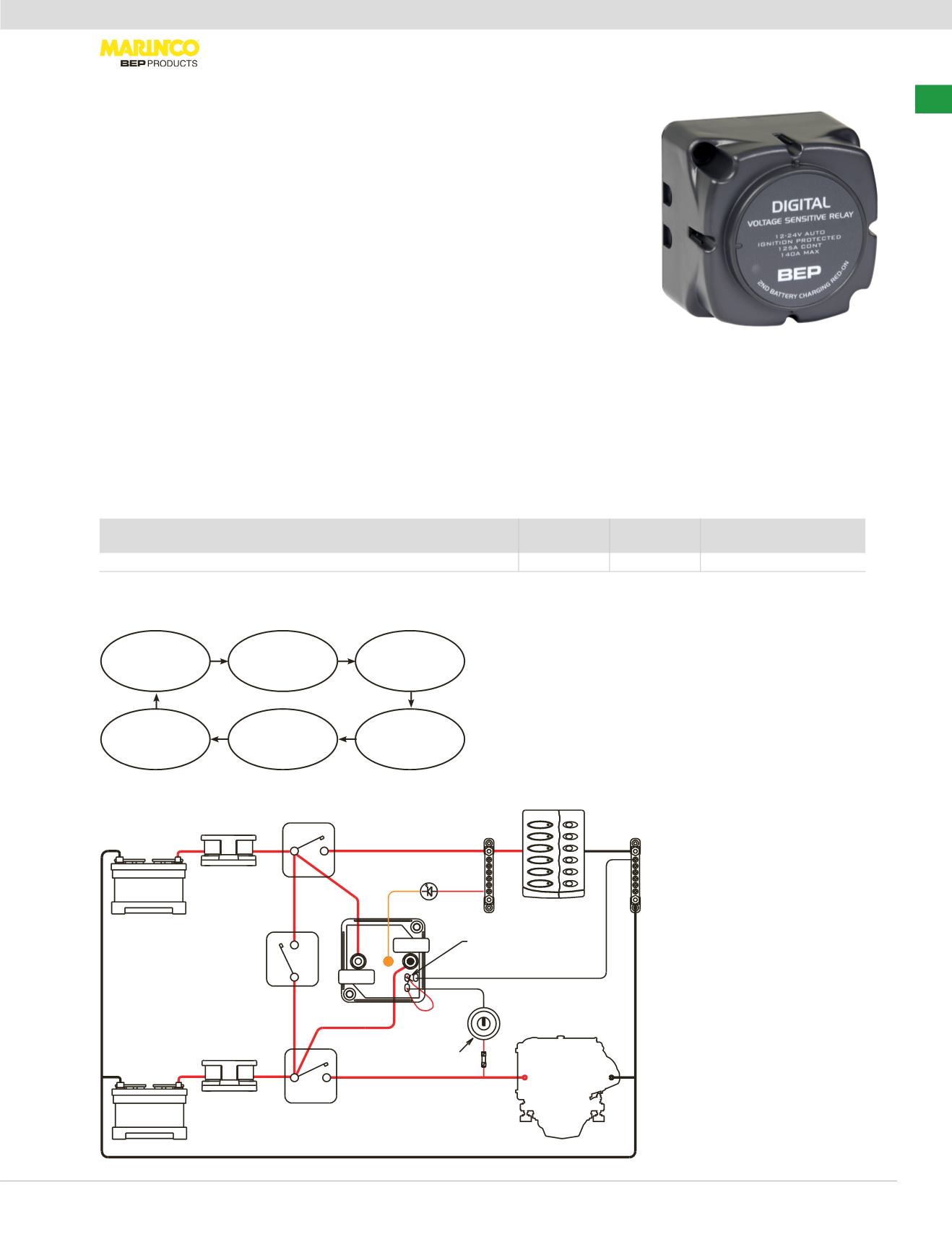 toll free 800.307.6702 MASTERVOLT | mastervolt.us MARINCO | marinco.com
Manage
Battery Switches
Twin Engine, Three Battery Banks
The CC-803N incorporates a version of our
very successful dual engine battery switch
The CC-803N is supplied with cables to allow
for horizontal or vertical configurations.
The components can also be easily removed
and reconfigured if the factory layout does not
Item # CC-803N
Battery Distribution Panels
Single Engine, Two
Battery Banks
The CC-802 incorporates a
version of our very successful
single engine battery switch
The CC-802 is supplied loosely
assembled with links and joiners
to allow it to be assembled in
either the vertical or horizontal
Full wiring instructions are
supplied to allow pre assembly
Item # CC-802
Single Engine, Two Battery Banks
The 80-700-0054-00 offers the same features as the CC-802.
The VSR and Emergency parallel switch are combined into one voltage-
sensitive switch, and that switch is able to be remote-operated.
Fewer components, more compact.
The layout allows all cables to be attached from the bottom of the cluster.
For features of the voltage sensitive relay, see page 104.
Item # 80-700-0054-00
Dimensions for Contour Connect Panels
Item #
LxWxH in
LxWxH mm
Module
Cut-out
Module
Cut-out
CC-801
5.75"x3.4" 166x106x55 mm 146x86 mm
CC-810
CC-802
5.75x7.5"* 166x212x55 mm 88x148 mm*
CC-803N
8.5"x3.4"* 223x212x55 mm 213x86 mm*
80-700-0054-00
8.5"x3.4"* 223x106x55 mm 213x86 mm*