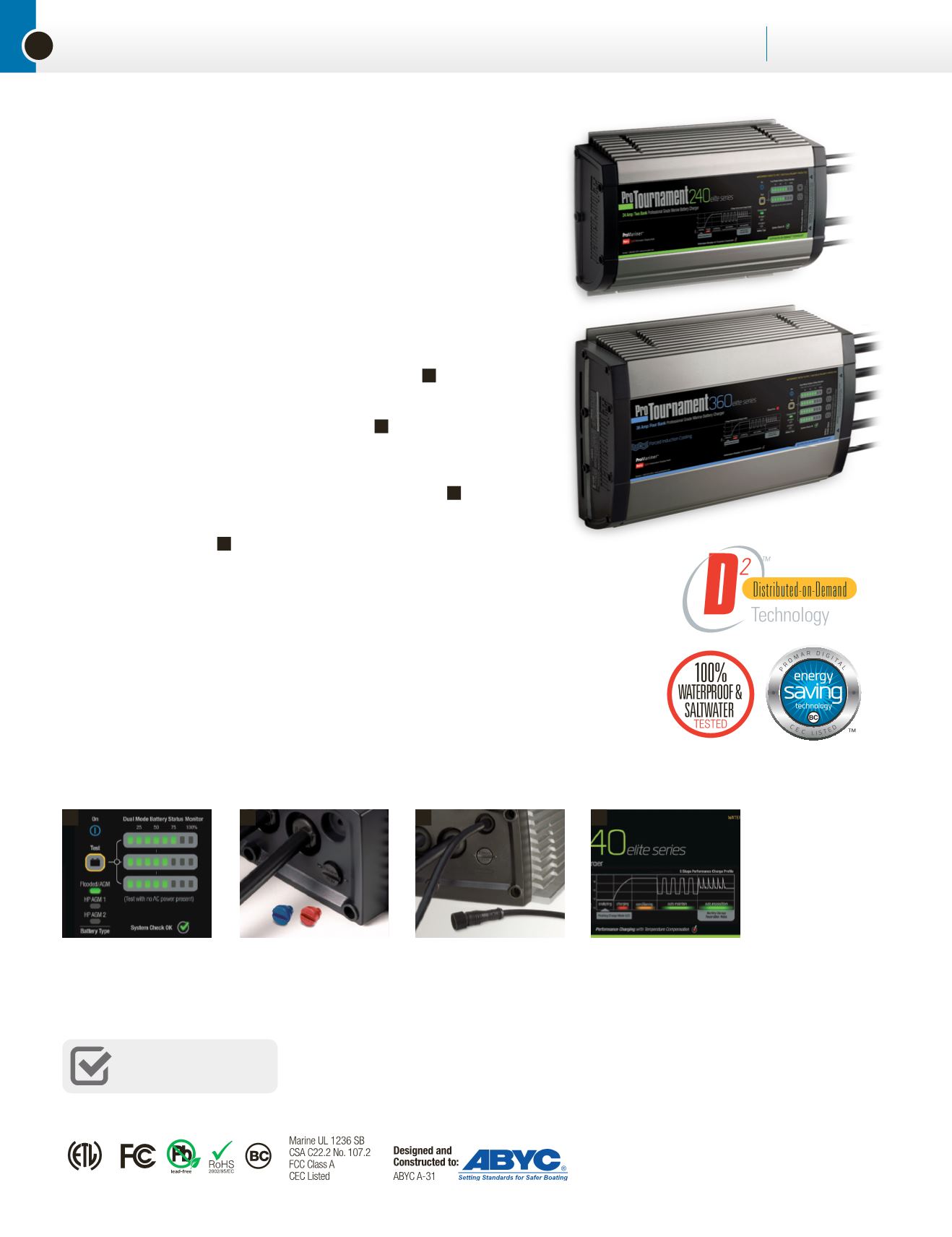 10
WATERPROOF BATTERY CHARGERS
promariner.com
ProTournament Elite Series
On-Board Waterproof Battery Charger
The fastest battery charger with the most features in its class.
The fastest battery charger with the most features in its class. Specifically designed
to deliver maximum charging performance and extend battery life. Get on the
water first and stay there longer with tournament winning technology.
•
Tournament Winning Technology
100% charge upon completion of multi-stage charging process. 100% charging output
with AC power as low as 90V AC. 50% lighter and 2 to 3 times faster than traditional
chargers.
•
Distributed-On-Demand™ Technology
Automatically charges and maintains your engine crank battery while distributing all
remaining charging amps to trolling motor or house battery(s).
ProMariner™ Exclusive.
See page 9 for details.
•
Digital LED Display with Dual Mode Battery Status Monitor
1
Intuitive LED display with charge mode indicators and real time charge level status with
an on-the-water push-to-test feature for percent of battery power remaining.
•
3 Selectable Performance Matched Charge Profiles
2
Profiles include: Standard Flooded/AGM batteries, HP AGM1 for pure lead AGM
batteries like OPTIMA Blue Top Marine Batteries, HP AGM 2 for pure lead AGM Batteries
like Odyssey Marine Batteries.
•
Waterproof Connector Port for Optional Charge Status Remote
3
Optional tri-color LED charge mode status remote can be placed up to 12' away from
the charger.
•
Digital 5-Stage Charging
4
Analyzes connections and the ability for a battery to accept a charge, advance high fill rate
charging, conditioning, auto maintain (energy saving mode) and automatic once a month
storage recondition mode automatically monitors ambient temperatures and adjusts its
charging output.
•
Forced Induction Cooling
Concealed waterproof fan provides forced air cooling for cooler operation
& fastest charge times. (360 Elite models only)
•
Built-in Safety & Pre-Wired for Easy Installation
Shock resistant, space saving extruded aluminum design, dual in-line DC safety fuses for
trolling motor and house batteries, over-voltage, overload, over-temperature, reverse
polarity and ignition protection.
•
Battery Type: Group 24–31 Flooded, AGM, HP AGM batteries
• Three Year Warranty
Conforms to:
I
N
T
E
R
T
E
K
L
I
S
T
E
D
CM
C
US
Digital LED Display with Dual
Mode Battery Status Monitor
3 Selectable Performance
Matched Charge Profiles
Waterproof Connector Port for
Optional Charge Status Remote
Digital 5-Stage Charging
4
3
2
1
240 Elite
360 Elite
Choosing a Waterproof
Battery Charger
on page 44